Cross-country ski
Hochburg
The Grenzlandloipe which leads from Hollbruck to St. Lorenzen in the Lesachtal is a dream trail, which unravels for 60 km amidst the different valleys, especially the Gailtal. If you wish to start from Hollbruck, the trail is about 50 m from the Hotel Schöne Aussicht.
Cross-country ski trail directly accessible from the Schöne Aussicht Hotel in Hollbruck
This trail is renowned as one of the most beautiful and long of the whole Southern Alps, distinguished by amazing landscapes and great variety. The trail is articulated in different sections, with diversified levels of difficulty, and ensures an unforgettable experience to beginners and experts alike.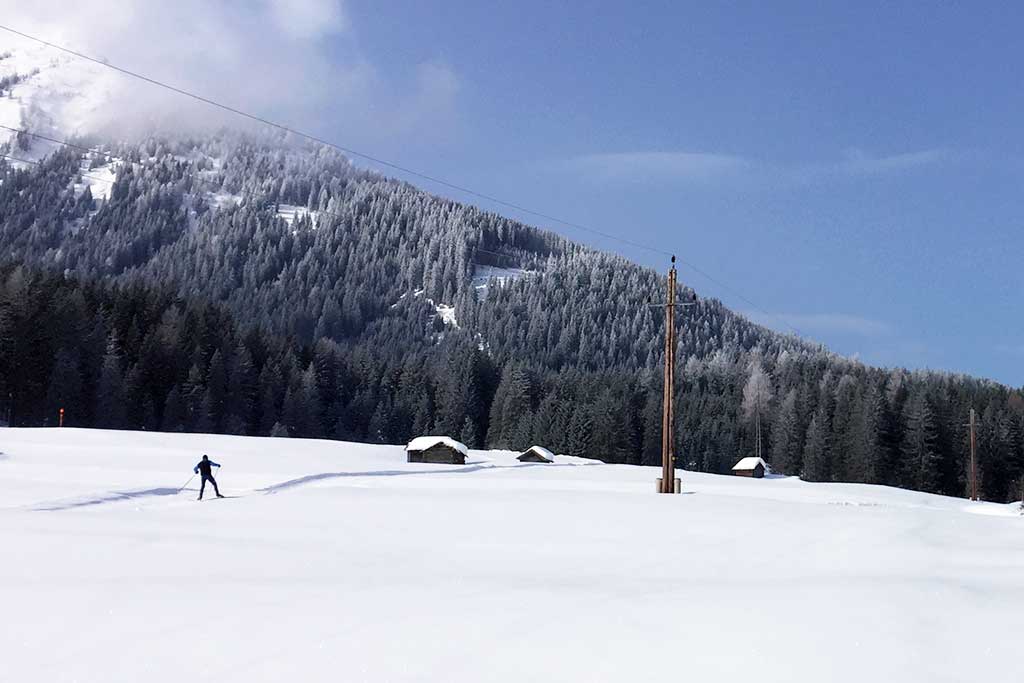 This trail is also renowned for its famous biathlon centre. This well-structured facility includes the shooting range, and is one of the training bases of the best athletes from all over the world. At the shooting mats you may easily find yourself discussing your shots – good ones as well as misses – with national biathlon champions from Austria, Germany and Italy, amongst other countries … quite a few Olympic medals started training here.
With a guide, you'll be able to put your skills to the test. Then you'll be getting back on your track toward the enchanting winter scenery, made of woods and meadows, with friends or even alone with Nature…
Anyone who's already been cross-country skiing on these Hochpustertaler trails, especially in the Tyrolean Gailtal between Hollbruck (Kartitsch), Obertilliach and Untertilliach, will be glad to be back.
The likelihood of snow is high for cross-country skiing as well: these facilities guarantee at least 5 km of snowy trails. Overall, cross-country ski fans benefit from 120 km well-groomed trails, which touch the villages and towns of the Pustertal and Innervillgraten.
The Hotel Schöne Aussicht is partner of Dolomiti NordicSki